Laminate Flooring Store in Frisco, TX
My Flooring America is your premier destination for high-quality laminate flooring. If you're looking for a cost-effective and practical flooring solution, our laminate floors are perfect for busy households with a lot of foot traffic. We proudly serve Frisco, The Colony, Flower Mound, Dallas, TX, and the surrounding areas, offering the widest range of flooring materials and types in the area. Step into our showroom and explore our laminate collection's exquisite textures and captivating prints available in our laminate collection. Our inventory features exceptionally durable and visually appealing products bound to capture your attention. Discover how our waterproof laminate flooring enhances the aesthetics of any room, including kitchens and bathrooms.
At My Flooring America, we stand out as the top flooring providers thanks to our national 500-store buying power. We offer an impressive selection of affordable laminate flooring in various colors and designs. Our friendly and knowledgeable associates are here to assist you at every step. Take advantage of a complimentary consultation and explore our extensive flooring options.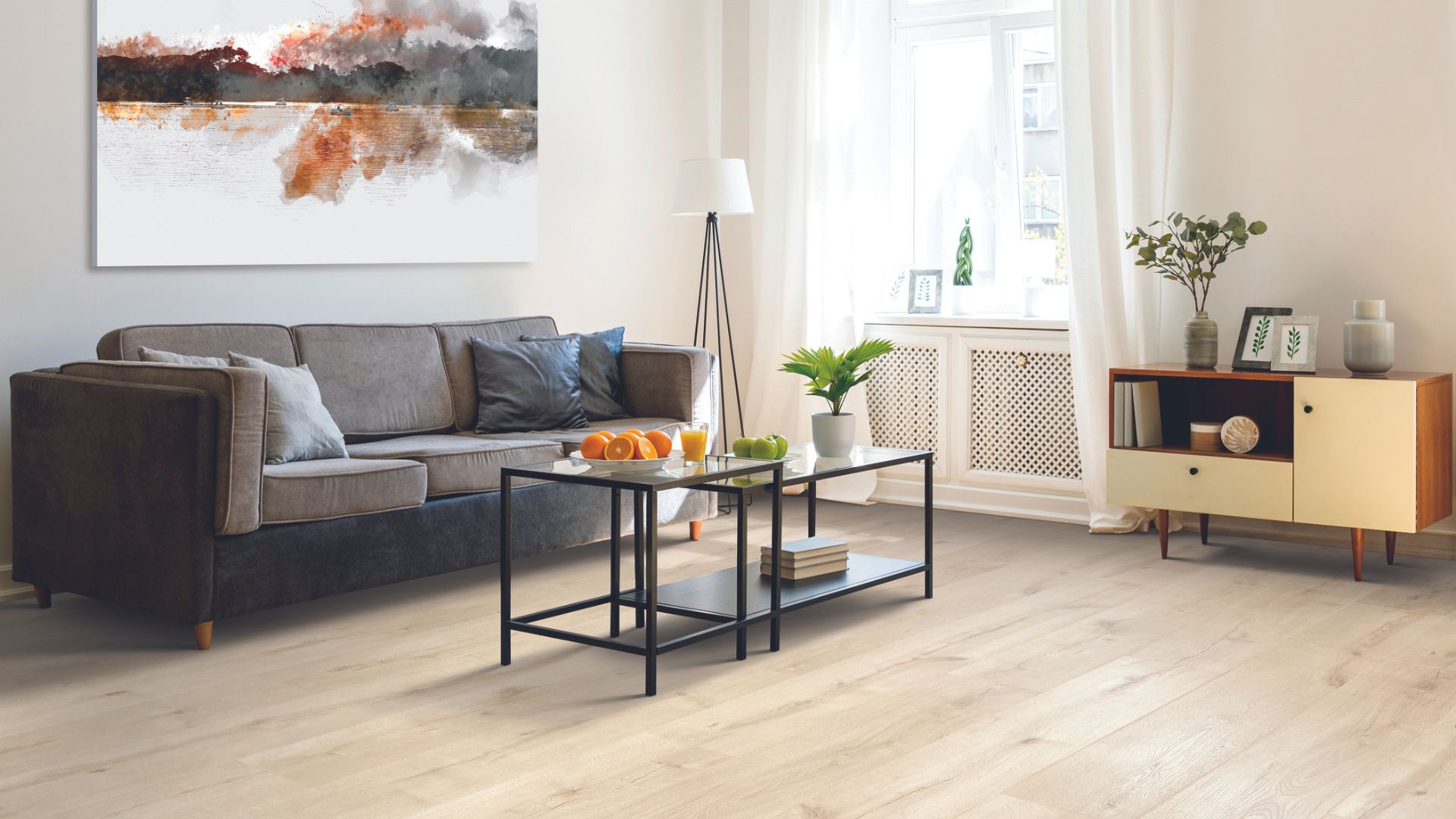 Discover Our Wide Range of Laminate Flooring Options
We offer two primary options for laminate flooring: laminate wood and laminate tile. Each option has unique characteristics, allowing you to achieve your Texas home's desired look and feel. Let's dive deeper into these types of laminate floors:
Laminate wood flooring captures the timeless charm of genuine hardwood floors but at a fraction of the cost and maintenance. Thanks to cutting-edge technology, laminate wood flooring flawlessly imitates the look and feel of various wood species like oak, maple, walnut, and more. With its authentic wood grain patterns, lustrous colors, and lifelike textures, it effortlessly infuses any space in your home with warmth and sophistication. This remarkable flooring option boasts exceptional durability, withstanding moisture, scratches, stains, and fading. It's perfect for busy areas and households with pets and kids.

Laminate tile flooring offers the perfect blend of style, comfort, and affordability. Designed to match the allure of ceramic or stone tiles, it provides a sophisticated and natural look without the drawbacks of grout lines and chilliness underfoot. You can indulge in the elegance of marble, the timeless charm of travertine, or the sleekness of porcelain with a diverse selection of designs and colors to complement your home's unique look. Not only does laminate tile flooring exude durability, but it also resists moisture and stains, providing a comfortable and resilient surface for your day-to-day. Experience the best of both worlds with laminate tile flooring - a practical and visually stunning choice for your living spaces.
Is Laminate Flooring Waterproof and Pet-Proof?
Laminate flooring is an excellent choice for Texas homeowners seeking a waterproof and pet-proof solution. While laminate floors are not entirely waterproof, they offer high water resistance, making them suitable for areas prone to spills or accidents. The durable construction of laminate flooring helps to prevent water from seeping into the core, protecting against moisture damage.
When it comes to pets, laminate flooring is pet-proof to a certain extent. The tough outer layer of laminate floors helps resist scratches from pet claws, ensuring the longevity of your flooring. Additionally, laminate flooring's water resistance makes cleaning up any pet accidents easier without worrying about stains or odors seeping into the floor.
However, it's important to note that excessive moisture or standing water can still pose a risk to laminate flooring. To maintain the flooring's integrity, wiping up any spills or accidents promptly is crucial. Additionally, using moisture-resistant underlayment and properly sealing the edges during installation can further enhance the water resistance of laminate floors.
While laminate flooring is not entirely waterproof, it offers a practical and pet-friendly solution for Texas homeowners. Its water-resistance and scratch-resistant properties make it a reliable choice for households with pets and areas prone to spills, providing a beautiful and durable flooring option.
Discover Laminate's Amazing Benefits
There are many options when it comes to renovating the floors of your home or office. However, laminate flooring stands out, offering many benefits beyond its durability and affordability. Let's explore the many advantages of selecting laminate for your flooring needs:
Long Lifespan: Laminate flooring is built to last. With an expected lifespan of 15 years or longer, it provides a durable flooring solution that can withstand the test of time. This means you won't have to worry about frequent replacements, saving you money in the long run.

Low Maintenance: Say goodbye to hours spent on extensive floor upkeep. Laminate flooring requires minimal maintenance, making it a convenient choice for busy individuals. A simple sweep or vacuum followed by a weekly mopping is usually sufficient to keep your laminate floors looking clean and fresh.

Resistant to Stains, Cracks, Dents, and Fading: Laminate flooring is designed to resist high foot traffic's daily wear and tear. It is highly resistant to stains, cracks, fading, and dents, ensuring that your floors maintain their beauty and integrity over time. This makes laminate an excellent option for households with pets or kids and commercial settings.

Versatile Aesthetics: You don't have to compromise style with laminate floorings. It comes in a wide range of designs and finishes, allowing you to achieve the fashionable look of hardwood, ceramic, or marble flooring without the hefty price tag. Whether you prefer the warm appeal of wood or the sleek elegance of tile, laminate offers the versatility to match any aesthetic preference.
Professional Laminate Flooring Installation
For a beautiful and functional result, accurate installation is key. Save time and resources by opting for our professional floor installation service provided by our in-house team. Our skilled technicians have the expertise to install laminate floors with precision and care, whether it's for a single room or your entire home. Let us handle the hassle, working around your schedule for maximum convenience. Experience the benefits of professional flooring installation. Contact us today to schedule your installation and enjoy a flawless finish that enhances the beauty and functionality of your space.
Rest easy knowing that our Ultimate Confidence Guarantee backs our work. If any installation-related repairs are needed within 30 days, they are free of charge. With a simple click system, our team can efficiently complete the renovation, minimizing disruptions to your household.


Take the first step towards replacing your outdated floors, and contact us today! We proudly serve The Colony, Frisco, Flower Mound, and Dallas, TX, among other areas.