Hardwood Flooring in The Colony, TX
Are you looking to add some authentic, natural beauty to your home? Check out our beautiful selection of hardwood flooring at My Flooring America. Our floors are built to withstand your active lifestyle and come in various hues and species. We offer competitive prices on hardwood products from some of the best brands in the flooring industry. At our showroom in The Colony, TX, our flooring specialists are happy to assist you with your home improvement journey and lead you through every step, from hardwood selection to installation. We carry everything from hand-scraped hickory to white oak planks, so you will surely find hardwood floors perfect for your living spaces. Stop by our flooring store today to start your next home renovation project!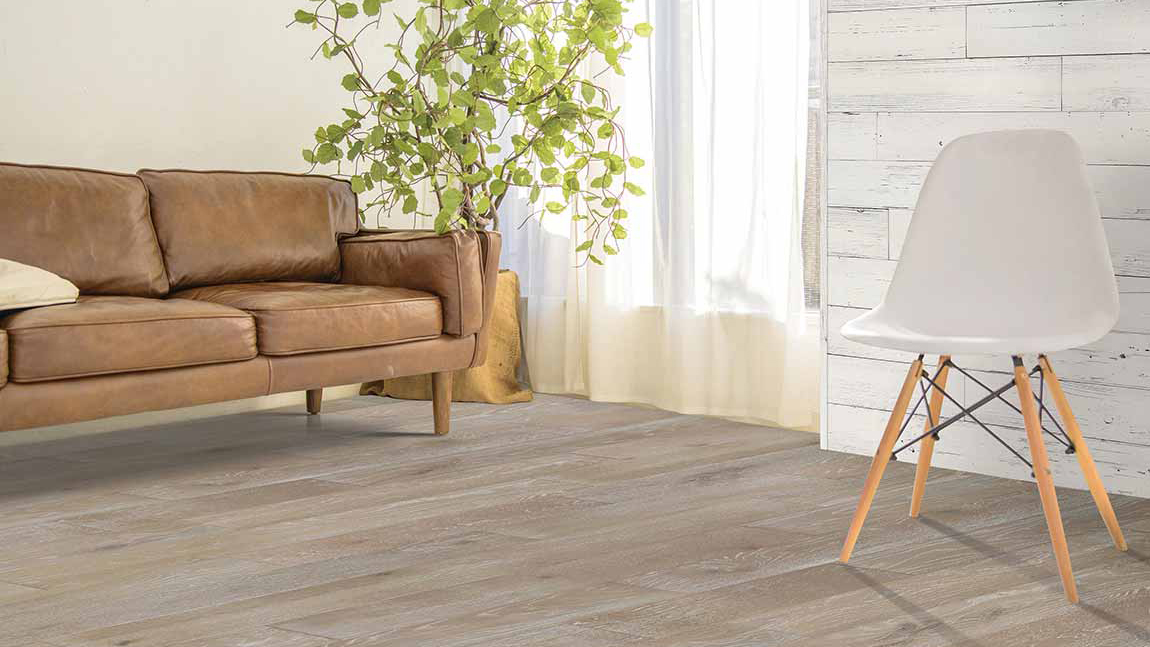 Solid vs. Engineered Hardwood
Hardwood flooring typically comes in two main constructions: solid and engineered hardwood. These two types of wood flooring may look and feel very alike, but there are some significant differences. Learn more about their differences:
Solid hardwood flooring

is a traditional style of wood floors where each plank is made from a single, solid piece of wood. Each plank is typically ¾ inch thick and made entirely of premium hardwood. Since it's completely solid throughout, you can often sand and refinish your solid hardwood floors to meet your ever-changing style needs. This eliminates scratches, stains, dents, and other imperfections. While solid hardwood is a beautiful flooring, it can be susceptible to warping in humid or moisture-prone environments. Due to this, we recommend installing your solid hardwood flooring in above-grade and non-moisture-prone rooms. Ensure your home has proper humidity levels through the dry winter months, so planks don't become brittle and prone to gapping and cracking.

Engineered hardwood flooring

is created from laminate layers. This layered design adds stability and prevents the wood from warping from moisture and humidity exposure. A natural hardwood veneer at the surface, meaning engineered and solid hardwood looks identical from above. This type of hardwood is more affordable and durable. The only disadvantage to engineered hardwood is you can't usually sand and refinish as often as solid wood. This depends on the quality and thickness of its top layer.
Hardwood's Many Benefits
Hardwood flooring offers many benefits that help improve the value of your home but can also help improve your overall quality of life. When you purchase hardwood flooring from our flooring store, you invest in quality products from some of the industry's best brands and manufacturers, including Baroque Flooring, Downs, Aquadura H2O, Floorcraft, Kahrs, Mohawk, Shaw Floors, and many more. Learn more about our top-quality hardwood's many benefits:
Enhances the look and feel of your home by adding

a touch of elegance

.

Low maintenance and

easy to keep clean

.

Adds value

to your home.

Solid

and

durable

, meaning it can last for decades and is an excellent

long-term investment

.

Helps improve interior

air quality

.

Looks

great with any decor

style.

Comes in

various appearances

, colors, styles, stains, and species.

Improves acoustics

in your space.

Hardwood Flooring Maintenance
One of the best advantages of hardwood floors is the low upkeep. It's very easy to keep hardwood flooring looking new for years down the road, as they only need to be regularly swept, vacuumed, and mopped. Before using any hardwood cleaning products, consult your floor's warranty to ensure you are using a product that won't harm your hardwood flooring. We are always happy to make a cleaning product recommendation! Take these steps to ensure your new wood floors are pristine:
Regularly

sweep or vacuum.

Dry mop to remove any excess dirt and debris.

For a

deeper clean

, use a soap and water mixture when mopping.

Use a wood polish every 2-4 months for

extra shiny floors

.

Consider purchasing a dehumidifier to help prevent your wood floors from expanding and contracting due to moisture.
Professional Hardwood Flooring Installation
For us, your design goals are a top priority, and our professional and certified installers are prepared to install your floors perfectly. Our experienced team of installers has years of experience under their belts and is ready for any project, no matter how big or small. Our team ensures that your new floor lasts for many years to come. We pay attention to the details from start to finish, meaning we don't leave misaligned panels or any missing pieces. Our installations are covered by some of the best guarantees in the industry, including our Ultimate Confidence Guarantee. This guarantee is our promise to you of a quality install. Should you find yourself unhappy with your new hardwood flooring, just give us a call within 30 days of your installation, and we'll happily replace your floor with a similar product at no additional cost.


Contact us to learn more about our hardwood selection and installation services. We proudly serve customers in The Colony, Frisco, Flower Mound, and Dallas, TX.